Wayne S. Brown, National Endowment for the Arts
November 6, 2011
Dear John and Devra,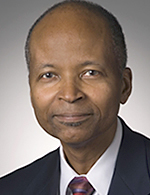 A short note to say hello and offer my good wishes.  Here in Washington, the political climate continues to evolve, yet there are those of us who remain optimistic that there will again be good days ahead.
Since my visit with the two of you a year ago, conversations about the future of the NEA Jazz Masters have given many of us a reason to pause. Well, I wish to inform you that just this week I received the green light to proceed with plans to identify the 2013 class of NEA Jazz Masters.  Accordingly, a panel will be assembled in order for the Arts Endowment to continue with
America's celebration of its unique musical message – jazz!
John, would you like to help select the next group?
As we look toward the 30th Anniversary of the NEA Jazz Masters and the celebration of John's 100th, it is my hope that we can soon connect in person.  I recall our visit last year when I asked that you seriously consider coming to New York so that many of your friends could offer a personal salute to John.  Alas, should that not be feasible, I hope to make a visit shortly after the Awards Ceremony.
Warm regards to you both,
Wayne
Wayne S. Brown
Director of Music and Opera
National Endowment for the Arts