Herbie Hancock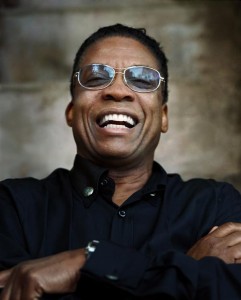 Hi John,
You're still the youngest man on the scene. How wonderful to be staring a full century in the face. By the way, your birthday is the day before mine, April 12th. I'll be 72 on my next one.
I want to thank you for your lifelong support and appreciation of culture, especially jazz. Yes, I also know you as a bass player on several landmark recordings before you got a desk job. I've been a constant admirer of your elegance and style. Your behavior as a compassionate human being is a model for us all. You're also continually a man of action and justice. Your recent email supporting Pres. Obama's achievements and castigating Cornell West and others who are very short sighted in their arrogant, monolithic, judgmental attacks on the President. I agree with you totally and appreciate your candor in pointing out their erred viewpoint.
You have accomplished so much over the years and in such a quiet way. Your artists have maintain their integrity and gone on to make some of the finest music in the world. Nancy Wilson is everybody's favorite and, of course, mine as well. Ramsey Lewis, Ahmad Jamal, Dakota Staton, George Shearing, to name a few, prove your greatness through their considerable achievements in music. They are all cornerstones in the development of great artistry and owe much to your managerial talent and love for the music. George Shearing was my very first influence. It was his music, which often included you, that first attracted my attention in jazz. My first pieces that i tried to copy were from his recordings of I'll Remember April, Lullaby Of Birdland, East Of The Sun, and many others. that was my starting point at the age of 14 in 1954 in Chicago while at Hyde Park High School. I was able to tell this story to George many years ago and he was pleasantly surprised, I'm happy to say. John, you and I are connected in many ways. Hope to see you soon.
John, you're my hero and will be forever.
Take care,
Herbie