H.B. Barnum
November 9, 2011
Hello Mr. Levy,
I just got a reminder that you will be reaching that big century number in a few months.  So I want too be one of the first to wish you Merry Christmas and Happy Birthday at the same time. Sort of like a greeting medley.
Not many have played the song of life as well as you.  So I'm writing this arrangement where the changes are easy to read, and the melody is always on top. That way when you hear it you will recognize the love and respect that myself and so many others have for you.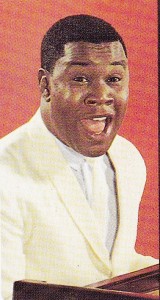 You'll never realize how much influence you've had in my life. You showed me how to be cool and still be real. You carry yourself with such dignity and class, but never to high to touch people at all levels. We've only had brief conversations over the years, but I always took away something that has helped me throughout my career.  
I know that a lot of people will be around to celebrate with you in April.  Maybe we can share a cup of love between now and then.  I will check with the Mrs. and see if we can arrange something.
And one more thing.  I know you respect your elders.  I've got two people in my choir that you'll have to look up to.  Sadie Nettlesbey 102 sings soprano, and My Auntie Ann White 101 alto, and still goes to Bingo twice a week.  
Lots of love and I'll be looking forward to seeing you soon.
H.B.